West Virginia Legal Malpractice Attorneys
Google +
Robinette Legal Group PLLC
211 Everhart Dr
Morgantown
,
WV
26508
From Our Offices in Morgantown, Serving All of West Virginia For Professional Negligence and Legal Malpractice Claims
Legal malpractice is a very serious charge, and not one to be taken lightly. The outcome will affect you for the remainder of your life. If you have suffered loss because of your own attorney's negligence, we are dedicated to pursuing your case to its just end and securing your best outcome.
WV Legal Malpractice Attorneys at Robinette Legal Group PLLC, Morgantown understand the keys to success: hard work, attention to detail, and focused commitment to the success of every single case.
Reviews for Robinette Legal Group, PLLC
The Robinette Legal Group PLLC, a West Virginia Personal Injury Law Firm located in Morgantown, WV finds great satisfaction in gaining the best possible results for our clients. Our review ratings reflect our clients' great satisfaction with the legal services we provide.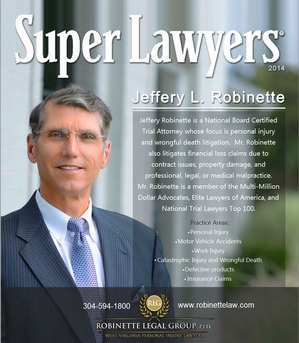 "Mr. Jeff Robinette brought our situation to a most successful conclusion. We could not have had an attorney to represent us in a more professional, helpful, caring manner." Mr. J.
West Virginia Legal Negligence in Personal Injury Claims
Under West Virginia law, legal malpractice occurs when a lawyer fails to exercise the knowledge, skill, and ability ordinarily possessed and exercised by fellow members of the legal profession in similar circumstances. In other words, a lawyer must provide professional services to the client of a quality no less than that practiced by his fellow lawyers.
Just because a lawyer fails to perform a duty owing to a client does not mean that the client automatically has a valid legal malpractice claim.
Helping Personal Injury and Medical Malpractice Clients Recover after a Former Counsel's Negligence has Resulted in Malpractice
An attorney-client relationship requires a high degree of trust and responsibility. Lawyers have a legal duty to keep their clients advised of progress in their case and to protect their client's rights. In a breach in the standard of care, legal malpractice may occur when an attorney's negligent action, inaction (failing to file a lawsuit within the statute of limitations period), or advice causes the client damages through the mishandling of a case.
Legal Malpractice occurs when a lawyer has failed to file a claim within the statute of limitations or failed to assert a claim that was available. Negligence in legal matters can also occur when a contract or will is not properly crafted. We have the experience to demonstrate when personal injury practice standards were not met and to help prove that you would have received a better outcome had your attorney not neglected some critical aspect of handling your claim.
What makes legal malpractice so complex is that it is really a case within a case. Not only does it need to be proved that your former attorney made a mistake, but also that you had a valid claim and should have won your case and received compensation in the underlying case.
Because of this complexity, it is imperative that you retain an attorney who not only has experience in successfully representing clients for legal malpractice claims, but also has decades of experience in handing complex personal injury, contract, and medical malpractice claims.
Lack of Communication May Lead to Malpractice
For instance, an attorney may not accept a settlement offer on behalf of his or her client without communicating and receiving approval from that client for such offer:
"Reasonable communication between the lawyer and the client is necessary for the client to effectively participate in the representation. Even when a client delegates authority to the lawyer, the client should be kept advised of the status of the matter."
There are three main requirements to prove legal malpractice:
1) That an attorney-client relationship exists;
2) That the attorney was negligent in the handling of the client's case;
3) That the client suffered damages as result of the negligence.